I haven't given away any goodies since my Summertime Gardening Giveaway in June, so I figured the holidays would be the perfect time to show some love to my dear readers. When I post photos of my various crafting endeavors, I'm always paying attention to the comments you leave. One recent creation seemed to be pretty well-received.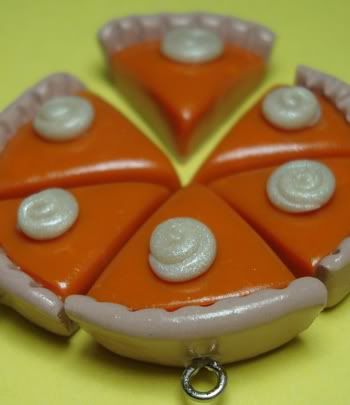 Many of you had nice things to say about the pumpkin pie charms that I mentioned in this post, so I thought I'd give you a chance to have one of your very own. The best part is that not one, but TWO readers will end up with a piece of the pie! These charms are very versatile- you can use them as keychains, ornaments, or add a chain/ribbon/cord to make them into necklaces. The winners may even wish to give theirs as a gift to their Uncle Henry, who eats half a pie all to himself each year, in an effort to inform him that they know what he's up to.

How to enter:

♥ Leave a comment telling me what your absolute favorite holiday food is. I won't hold it against you if yours isn't pumpkin pie (even though it's definitely what I look forward to the most).
♥ Follow my blog. If you are already following, that counts too! Just leave a comment telling me that you follow.
♥ Tweet about this giveaway. Comment with a link to your twitter profile.
♥ Blog about this giveaway. Leave a link to the post in a comment.

Each of the above options counts as an entry, so please leave a separate comment for each one. Make sure to leave your email address or a link to your etsy account with each comment so that I can contact you if you win.

This giveaway is open to all countries- everyone is welcome to participate! The contest starts now and will end at midnight (U.S. central time) on Wednesday, December 16th. I will draw TWO winners with a random number generator and post the results on the 17th. Good luck, everybody!